Last Updated on April 26, 2023 by Goya
---
Hey there, welcome to your Ultimate Ljubljana Guide!
If you have seen my earlier post on Ljubljana, then you know that my love of Slovenia started quite some time ago. Our stay back in 2017 was short and limited only to the capital of this beautiful country, but it was enough to make both my brother and me determined to come back here as soon as we possibly could… Of course, then life happened, so my prompt(!) return to Slovenia didn't actually take place until five years -or two graduations, a wedding and a global pandemic- later, and this time, I had some time to kill and a new travel buddy: Mister… And boy, was it a trip to remember!
We booked our plane tickets and hotel very last minute (5 days before our departure date, to be specific), so we didn't have a lot of time to plan or book anything. And perhaps it was good that we didn't. It seemed we arrived in the middle of a great rental car shortage (yup, it was a thing), so even if we had a plan/list, we probably couldn't see them all anyway.
So what did we do? Well, we just booked the last decent hotel room in Ljubljana for the week, got a 4-day car rental, and got ourselves on that plane with zero plans!
Somehow, our totally unplanned trip ended up having everything from chilled days spent in Ljubljana settling into the rhythm of the city and taking it all in at a leisurely pace (sometimes with a coffee in one of the squares, sometimes with a book in Tivoli Park) to days spent driving around to other towns/cities, climbing up hills and towards waterfalls, renting boats and tasting wine, sometimes all in one day. And you know what that means… lots of anecdotes, reviews and recommendations!
Intrigued? Well, why don't you grab a cuppa, scroll down and join us in Ljubljana?
Perhaps we can even go for a day trip from Ljubljana? Or, if you are short on time, you may want to check out this Slovenia quick list instead.
This post contains affiliate links, so I may earn a small commission when you make a purchase through links on this site at no additional cost to you. Thank you for your support!
---
Finding myself in the pastel-coloured streets of Ljubljana once again was an absolute joy! It was interesting to see how the city seemed to have changed so much, yet not at all at the same time:
I noticed that some of the places from my last visit, like Robba, had closed down (or perhaps, undergoing renovation as a quick Google Translate of the sign outside suggests?), its outdoor areas now occupied by a bar (Pritličje) and a hip new restaurant (SISI Restaurant Ljubljana). While some of the staples of the city, like Julija and the embankments on either side of the Ljubljanica river, remained as busy as ever.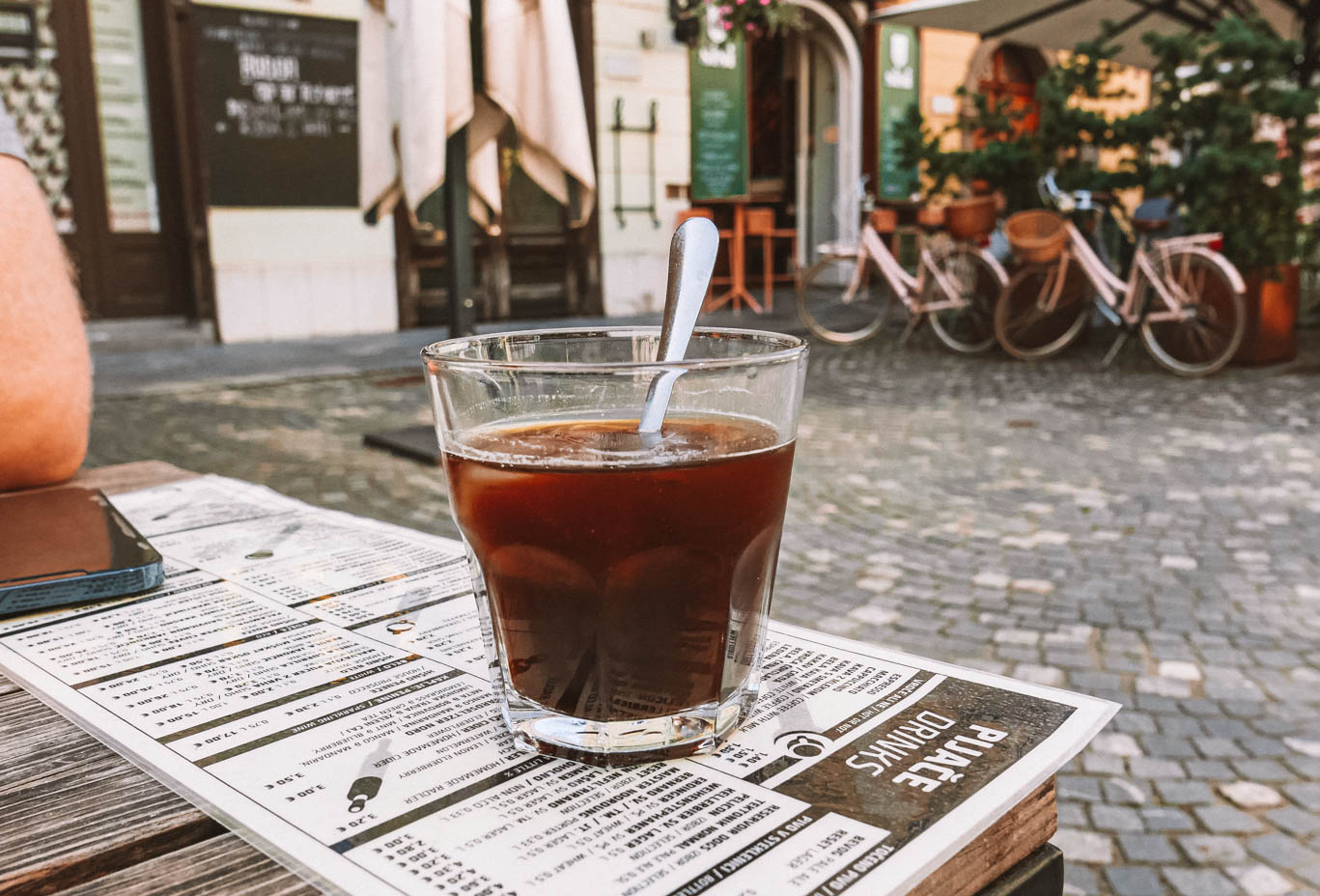 The first few days in Ljubljana, I had to work. Although it was not ideal for me, it was actually a pretty good way for Mister to wander around and discover the city on his own… Do all the touristy bits, so to speak, so that we can go and explore new(er) places together. I did join him for lunch and dinner, of course. And it was actually during these lunch breaks that we found the most amazing pizza place (more on that later) and learned a very important lesson about the Slovenian way of living:
It is all about taking it SLO-OOOO-W!
Forget about your quick Pret sarnies and Costa coffee. In Slovenia, if you want to have a quick lunch or coffee, you don't go to a restaurant or café. Because if it involves sitting down, then chances are you're in it for the long haul. And don't get me wrong… I loved that every meal/coffee was an experience here and that you could be truly present in the moment. It's not all just go-go-go, as it often seems to be in London. You get to really appreciate your surroundings, the view, the people around you, and whatever deliciousness it is that you're about to have.
Like, listening to the sound of the sewing machine coming from the gift shop around the corner, while the smell of coffee and chatter of the tourists and locals alike fill the air (yes, Cafetino, my love, I am talking to you!). It's a truly immersive experience… But maybe just not quite what you are looking for when you're trying to fit lunch in between work meetings 🙂
Aaaaanyway, I guess that's enough introduction, let's dive right in!
---
WHERE TO EAT & DRINK IN LJUBLJANA
Of course, my Ultimate Ljubljana Guide starts with… where to eat and drink. This is the country that currently holds the title of European Region of Gastronomy 2021 after all!
So what is Slovenian cuisine like? Well, it's essentially a melting pot of flavours from the Mediterranean, the Pannonia basin, the Alps, and the Balkans. You have your heart-warming stews, your fresh salads, and your decadent pasta. All next to one another and all delicious!
And the best places to try these? Well, they would be:
Pop's Pizza & Sport
I have to admit, if I weren't in a hurry to find a place close to the hotel in between meetings, I probably wouldn't go to a place with "sport" in its name… And boy, would I be wrong!
Located on Breg, next to beautiful Novi trg, this little gem of a place is not only the perfect place for people-watching with gorgeous views of the river, but it also makes one of the best pizzas I have ever had in my entire life!
Defined by Pop's themselves as "Gourmet Neapolitan Pizza meets Brooklyn Style", the beauty of these pizzas comes from their 100% sourdough (kneaded by hand, fermented for 48 hours and baked for only seconds) and top quality ingredients… and I'm here for it!
Our favourites? Well, we ended up trying quite a few and loved them all, but Sofia D.O.P and Mr Sinatra really stood out among others. Mr Sinatra, in my opinion, was THE BEST!
Of note: Their outdoor seating area is large and has a convivial atmosphere. As a result, it is very high in demand (it's not uncommon having to queue at lunch/dinner time). But don't worry, the queue moves quite quickly and it's definitely worth the wait!
---
Monstera Bistro
Located between two beautiful squares, Novi Trg and Kongresni Trg (Congress Square), it would be easy to walk past this unassuming place and not know what you'd be missing. While the sign (and the space) outside may be small, the flavours inside are the biggest and boldest!
Monstera was the original cool kid on the block when it opened back in 2016. By taking the age-old tradition of using locally sourced, fresh ingredients and elevating it to a sophisticated dining experience with creative dishes (a result of their "zero-waste cuisine" concept), Monstera heralded a change in the gastronomic landscape of Slovenian cuisine.
And to this day, it still continues to push the boundaries. The menu changes every couple of days based on what is fresh and gives you a chance to try and (re)discover flavours that are often missed or omitted during food prep. Their bar is also equally impressive; stocked full of delicious organic wine, craft beer, homemade syrups, juices and iced teas… the perfect accompaniment to any meal!
The menu at Monstera Bistro on the day we went included the following beauties:
Starters:
Beef tomato with pumpkin seed oil, cashew nut cream and anchovies
Cold cucumber soup with roasted watermelon and young goat cheese.
Mains:
Pork belly with creamy roasted corn, roasted peppers and bacon jam
Fried eggplant with miso marinade, chickpea curry, sweet chilli salsa and oyster mushrooms
Braised beef cheeks with mashed potatoes and roasted vegetables
Sirloin steak with a side dish
Desserts:
Caramelised fig with plum marmalade, chamomile cream, and hay ice cream
French toast with mixed berries, burnt cream ice cream and mint
(You can opt for two or three courses; we went for three.)
If I were in Ljubljana for one day only, this would be the place where I'd book a table*… And let myself be surprised over and over again.
*Reservation highly recommended.
---
Landerik
"Sleek" is the first word that comes to mind when you see this modern addition to the heart of the old town. While the restaurant itself is located in the centre of Ljubljana, the culinary journey offered at Landerik makes sure that you get a taste of the fresh local produce from all around the country… Paired with (as yet) totally underrated Slovenian wines.
They offer an elegant and affordable 3-course menu for lunch between 12-4 pm, as well as à la carte options. And it is mostly vegetarian/vegan-friendly. We went for their lunch menu, which was quite the experience… Almost like having a tasting menu at a fancy restaurant (imagine meticulous, bow-clad service, brief introduction of each course, amuse-bouches and palate cleansers), but in a more casual setting.
While not necessarily the best ever, the food, especially the dessert, was very good and the portions generous. And whatever it may have lacked in terms of flavour (*cough* baked cauliflower soup with thyme and lemon crumble *cough*), it definitely made up with its lovely atmosphere: Most of the dining area in Landerik is outside, on the beautiful, cobbled Stari Trg with gorgeous 19th-century wooden shopfronts, where you can (often find a spot without a reservation and) watch the world go by with a nice drink in hand.
Or, as was in our case, watch a middle-aged, bearded man wearing a costume drive past us on a bike with bells and music blasting through speakers. Our waiter informed us that they call him "Santa" and apparently he does this pretty much every single day.
I don't know what I enjoyed the most; what I had just witnessed or our waiter's total nonchalance as he explained it to us.
---
Gostilna Vida
With tables inside, outside and back in their secret garden, this Tardis-like place on Gornji trg never ceases to amaze you. Especially when it comes to food. With its eclectic menu (ranging from breakfast burritos to smoothies, Mediterranean bowls or Thai curry), it is truly THE place for all your heart's desires and cravings.
Their motto is "We cook simple, honest, fresh, seasonal, green, sane & delicious" and they deliver 100%. Every single item we ordered was absolutely divine. As were the service and the atmosphere (friendly & casual) in their little backyard garden. I honestly cannot recommend it enough!
---
Ek Bistro
Unlike Gostilna Vida, Ek Bistro specialises in a very specific type of cuisine or rather the meal of the day, and it's breakfast/brunch. In fact, it is often called the best brunch spot in Ljubljana.
While we haven't had a chance to compare it to other similar places (our room included breakfast), I can say that overall, it was indeed very good.
---
Restavracija Julija
Julija is what you would call a Ljubljana establishment. Everybody has either seen it, tried it, or wants to try it. And it's not hard to see why given its casual and inviting vibe, with blue and white checkered tablecloths, candles, and a board with the day's specials.
It's kind of like a mix between a Parisian cafe, a Greek restaurant and a close friend's garden on a late summer evening… As a result, it is one of those places you simply cannot go without a reservation. (Of note: Don't e-mail them or call them, as they never seem to answer. Just go to the restaurant and book there and then.)
Now about the food… The Restavracija Julija's menu is huge, so whether you fancy something typically Slovenian or more international, you're bound to find it here.
For starters, we went for beef carpaccio and scallops (both tasty). While for mains, we opted for Slovenian specials:
An Istrian-style pasta with cep mushrooms and asparagus, which was fresh and delicious.
An Idrian žlikrofi (dumplings) with Karst pancetta and cep mushrooms, which was perhaps a little too heavy for a summer night.
Overall, I would say the food was good but perhaps not as mind-blowing as we expected it to be. The ambience, wines and service (if not a bit overstretched at times) were great though. So it's definitely worth trying!
---
Restavracija Atelje
If you are looking for something a little more special while in Ljubljana, you may want to check out Michelin-starred Restavracija Atelje.
It is currently Ljubljana's only one, but I expect it will be joined by many more soon.
---
Kolibri Cocktail Bar
Kolibri Bar is an absolute dream! As in, if I were to describe my perfect cocktail bar, it would be pretty much an exact replica of Kolibri. Think apothecary-style counters, an elegant Gatsby-esque interior, a little outside patio on a quiet street that is shielded from the gaze of passersby with greenery, a totally intimate atmosphere both inside and outside and most importantly, great cocktails!
Open from 5 PM onwards (except for Mondays), this little slice of heaven does both seasonal and old-school cocktails and it does them well!
Of note: Reservation is not possible on Fridays and weekends.
---
Wine Bar Šuklje
Knowing us this probably won't come to you as a surprise, but this little boutique wine bar was our first evening destination here. After what had been a long day at work, it was amazing to just wind down here with Mister and watch the sun slowly set behind the castle with a nice wine in hand.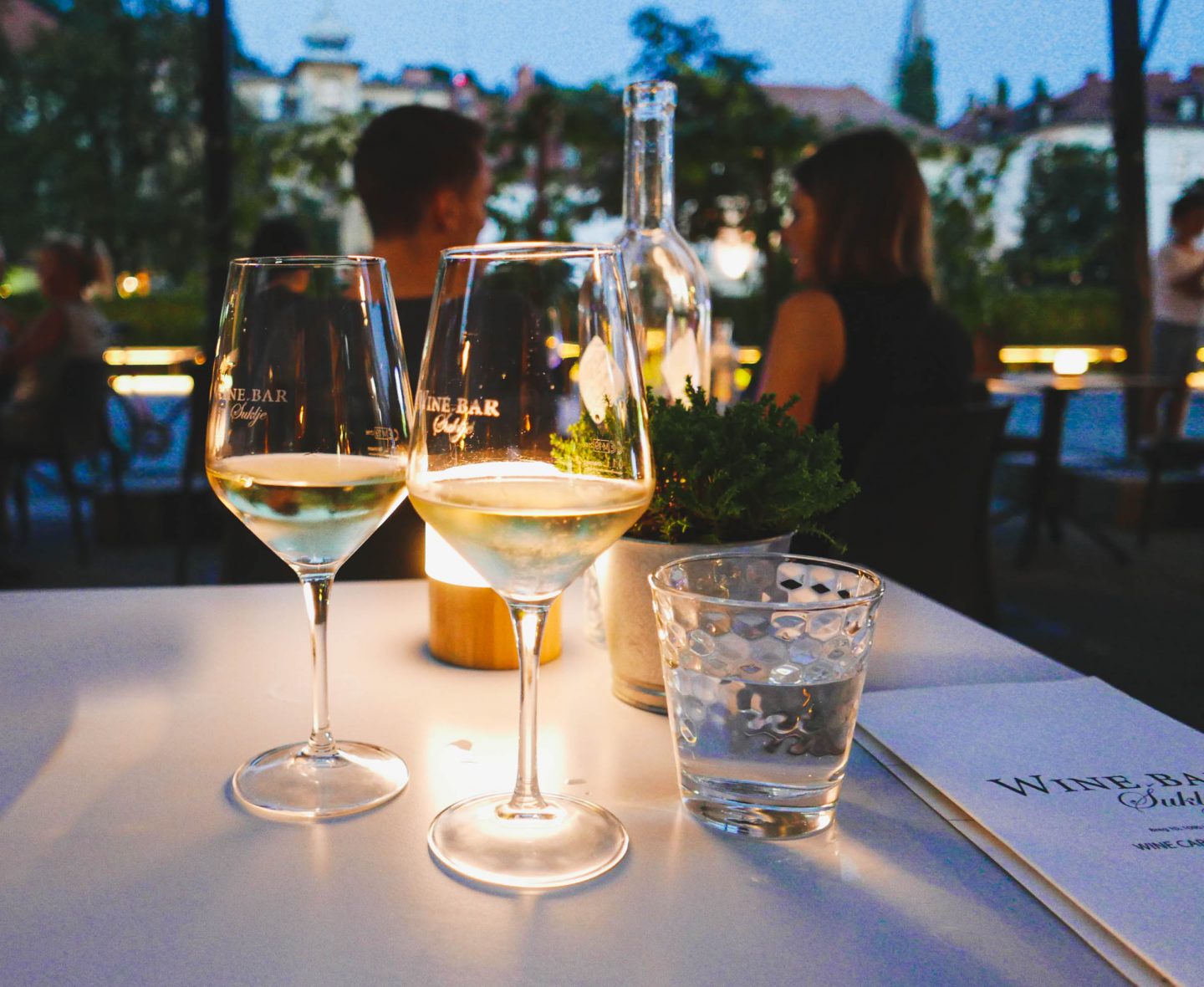 We had a lovely tasting, which gave us a much-needed introduction* to Slovenian wine regions and their characteristics:
Starting with a wine flight of four house wines (from Šuklje Wine Cellar in Bela krajina)
Followed by a flight of four Slovenian wines (two from Goriška Brda, one from Istra and one from Štajerska),
And a macerated (orange) wine, a Malvazija from Goriška Brda,
And finished with a sweet, delicious Muscat from Bela krajina.
(* I have to emphasize that this was exactly that, "an introduction". I wouldn't remove any of the wine regions from your to-go list just based on this tasting, as we almost did. We really didn't enjoy the Štajerska wine here, but later fell in love with a bottle of Marof from Prekmurje during another tasting in Maribor.)
The staff was very knowledgeable and extremely helpful. They even brought a little map of Slovenia and a pen to show us the different regions and answer our questions!
The food menu, or rather the nibbles menu at Wine Bar Šuklje, was short but to the point (not surprising given this is a wine bar and not a restaurant). And everything was presented so beautifully! This was also where we had our first real taste of a true Slovenian speciality: Pumpkin seeds! Its oil was in the mayo turning it into a bright green dressing, while its kernels were peppered across the cheese and charcuterie board:
The atmosphere was also lovely. Upscale but relaxed, with a good even split between couples and groups of friends (perhaps co-workers who were on time for the "after-work champagne deal" between 4-6 pm, which we missed).
---
Dvorni Bar
Located on a lovely little square, Dvorni trg, that it was named after, this is the place to be if you want to try all the Slovenian wines, and I mean ALL of them. It has an impressive wine and tapas selection (much bigger than Šuklje's), but it is also a little less boutique.
---
Sisters Kurtos
What is on Sisters Kurtos' menu, you ask? Well, this artisan bakery does one thing and one thing only: Kurtoš! Or chimney cakes, for friends. While not necessarily a Slovenian delicacy themselves, they are definitely a step up to any other I've seen elsewhere… And a true Instagram gold!
Have them sweet or savoury, filled with chocolate or ice cream or both… Your options are endless, really!
---
Gelateria Romantika
If the idea of having a chocolate-loaded mermaid kurtoš is too much, but you're still in need of a sugar kick, perhaps in the form of ice cream or sorbetto, then look no more! With its ever-changing menu and two locations (one on Dvorni Trg and the other on Stari Trg), I am sure Gelateria Romantika will have something for you!
The one in the picture was tiramisu. But honestly, it's their Pistacchio verde di Bronte that will knock your socks off. Yum!
---
Cafetino
As I briefly mentioned above, this was our go-to coffee shop, just around the corner from our hotel.
It also happened to be conveniently located next to Knjigarna Beletrina, a bookshop with a small but good selection of books in English. You know, in case people watching (or sewing machine listening) isn't your thing 🙂
---
Stow Coffee
Another firm favourite for coffee. It has two branches:
Stow located in the same building as the City Museum of Ljubljana (Mestni muzej Ljubljana) and
Stow 2 go on Prešeren Square.
Random fact: A good old massive cup of cold brew doesn't seem to be a thing in Slovenia. They only serve them in small, flat white-type cups. Surely, this is a gap in the market, investors unite!
---
Špica Caffe
A 15-20 minute stroll along the river, away from the city centre, will take you to Špica Caffe. Located next to Park Špica, this place not only offers you a quieter, more socially distanced space to chill and enjoy your drink lounging on deck chairs but also an almost panoramic view of the river as this is where Ljubljanica naturally bifurcates.
What I really liked about this place was that it was never super busy, and it felt more connected with nature somehow… And, of course, their mean Mango Hugo, which is officially my favourite summer drink!
---
THINGS TO DO IN LJUBLJANA
I can almost hear you say "ok, that's all great for food and drinks, but what about things to do? Is there anything in this Ljubljana Guide about things to see/do?". And the answer is YES!
If you're after touristy highlights in Ljubljana, then I would recommend that you head to my previous post here.
For any day trips to Bled, Bohinj, Piran, Ptuj, Maribor and their surroundings, you can check this post here.
And if you're interested in spending more time doing other stuff in Ljubljana, then you can just keep scrolling down, because I have some goodies for you (beware, some may still involve eating :)):
SUP Ljubljana
No, I'm not trying to be cool, this is genuinely what it's called. Stand-up paddling on a surfboard, also known as SUP, is an amazing way to wander about the city. It allows you to see the city from the unique perspective of the Ljubljanica River, while getting a nice tan, meeting your activity goal for the day and meeting the wildest residents of the city (check out these guys!):
We booked this stand-up paddleboarding tour, which included the instructor fee, equipment hire, and photos. Our SUP instructor not only knew the city like the back of her hand but -because she was born and raised in Ljubljana- was able to walk us through the recent history of the city/country and the changes it went through.
We listened to her talk about where she grew up or where they went with friends after school. Which bridge was moved from here to there and how some of the locals are unhappy with its replacement. How the housing market changed over the last few years, pushing young families to the outskirts… Why nobody is wearing a mask (spoiler: it was not due to high vaccination rates, as we thought).
And we really enjoyed that! It is the people (and the stories you cannot find written in books and guides), that make a city a living, breathing entity of its own after all. So, on that front, the tour was everything we could ask for and more.
The one part that didn't quite deliver, however, I have to admit, was the photos. So, if you like your pictures less on the blurry side, I would definitely recommend taking your own phone/camera (ideally in a waterproof case you can hang around your neck), or perhaps even your GoPro with you.
Luckily, we caught others doing SUP the next day, so I have some pictures for you:
---
Outdoor Events and Festivals in Ljubljana
Okay, I know this all sounds very vague, but hear me out, if you're in Ljubljana over the summer, then you are really spoiled with choices in terms of the outdoorsy events that you can attend.
Just to give you an idea… When we were there, Ljubljana was also the home to:
The 69th Ljubljana Festival (where we enjoyed a nice little production of Chicago musical)
A bouldering event (Triglav The Rock Ljubljana – Street Edition),
A massive trampoline built right on the river (Woop! Bounce Bridge Ljubljana),
A series of free evening concerts (called Summer in Šiška),
The annual festival of veganism and sustainable way of life (Vegafest),
As well as various pop-up exhibitions everywhere (by the river on Krakovski nasip, or inside Tivoli Park).
We had just missed Film Under the Stars which takes place in Ljubljana Castle but were right on time for Library under Treetops (Knjižnica pod krošnjami), a project which allows people to borrow books, comic books, magazines and newspapers in different languages free of charge at random pop-up locations around the country:
And, this was all in addition to other events that take place in the city regularly, like Open Kitchen (Odprta Kuhna), an outdoor street food market that is set up on Pogačarjev trg every Friday during summer months, or Sunday Flea Market on Breg.
In Ljubljana another time? Just check this events calendar, you're bound to find something interesting!
---
Watch the Sunset at Ljubljana Castle
It is no wonder this is at the top of every Ljubljana Guide… Definitely one of the best things we have done in Ljubljana was to take the funicular up to Ljubljana Castle around 6-7 pm, for a nice walk around the castle grounds. (Of note: You don't need to take the funicular, you can also just walk up the hill to get to the castle.)
After watching the sun slowly disappear behind Ljubljana Cathedral, we made our way back up to the castle to say a final goodbye to the sun the only way we know how: With a cheeky little wine in Grajska Vinoteka!
---
Ljubljana Museums with a Plus
Museums are great. But what is even better is museums with outdoor areas where you can sunbathe, catch up with friends and enjoy a drink. And Ljubljana museums, well, they have it down to a T.
Our favourite was Kavarna SEM Lounge Bar, outside of the Slovenian Ethnographic Museum (SEM), which we accidentally stumbled upon after visiting the nearby Metelkova Art Center.
Vrt Lili Novy, between Modern Art Museum and National Gallery, and on the way to Tivoli Park also had a really nice vibe.
---
WHERE TO SHOP IN LJUBLJANA
No Ljubljana guide would be complete without some shops to explore. There are many unique shops in Ljubljana, ranging from trendy boutiques to traditional craft stores. Visitors can find a variety of goods, including handmade jewellery, Slovenian souvenirs, and locally made treats.
Unfortunately for us, most of the places we wanted to check out for shopping seemed to be closed for the holidays. Of course, that didn't stop us from finding new ones, such as:
Butik lePotica
A cute-as-a-button shop on Stari trg where you can buy delicious, freshly baked poticas (Slovenian nut rolls) and all potica-related paraphernalia from potica pots, to cooking books, textiles, gifts and souvenirs.
Trgovina IKA
A beautifully curated, unique gift shop on Ciril-Metodov trg, which offers a good mix of traditional and modern items. We bought a magnet and two gorgeous cups from Polona Polona (one Freddie Mercury and one Janis Joplin) from here. While not all traditionally Slovenian, they will always remind us of our time here.
Treasures of Slovenia Ljubljana
Located on Ciril-Metodov trg, is your typical souvenir shop on steroids. If you're after something that screams Slovenia, you're bound to find it here.
Parada/Lifestyle Shop
Nestled in a courtyard on Mestni trg, this shop has a nice selection of decorative items and accessories. In the same courtyard, right next door to Parada, you can also find a ceramic shop which looked very nice, unfortunately, it was closed for the holidays when we were there.
tipoRenesansa
If originality and handcraft are what you are after, then you cannot beat this letterpress studio/shop on Breg. Owned by a husband and wife duo who are passionate about salvaging old prints and printing equipment, this is the perfect place for all your stationery (gift) needs.
Ljubljana Flea Market
Held every Sunday morning along the riverside on and around Šuštarski Most (Cobbler's Bridge), Ljubljana's flea market is the perfect place to get your hands on beautiful jewellery, stamps, crystals, secondhand books, or even futons and furniture from the olden days.
Stalls By The River
Check out the stalls that pop up around the river, especially on the weekends. We discovered Slovenian painted beehive panels and met two ceramic queens from southern Slovenia, Čaj za 2 Keramika and Diamantka and brought back with us some of their beautiful creations.
You may also want to check out:
Babushka Boutique and GUD Shop, both on Stari trg, are two cute little gift shops where you can live your best millennial life. You have probably seen such shops in another city or on Instagram, and you know you can probably find most of these things in your hometown but you cannot help and go in to take a look anyway.
Extraordinary Ljubljana on Novi Trg, is a (mainly) clothing store that has sustainability and local production at its core. It has a beautifully curated collection, but it is slightly on the pricey side.
---
WHERE TO STAY IN LJUBLJANA
Ljubljana offers a wide range of accommodation options to fit any budget and preference. From budget-friendly hostels to luxurious hotels, bed and breakfasts, and even charming guesthouses, the city caters to everyone's needs. The Old Town is a popular spot for those seeking to stay in the heart of the city, surrounded by historical landmarks, but there is also the peaceful district of Tivoli or the bohemian area of Metelkova for those seeking something unique. There is also the quiet but well-located Trnovo neighbourhood for those who want a glimpse into the local lifestyle. Regardless of where you choose to stay, Ljubljana's warm and welcoming atmosphere is sure to charm you.
Hotel Heritage
Where we stayed, you ask? That would be here in Hotel Heritage.
Set in a prime location, the Hotel Heritage in Ljubljana is an excellent option for travellers looking for a luxurious and unique experience during their stay in the city. Housed in a restored 16th-century townhouse, this boutique hotel features charming old-world decor and modern amenities, creating an atmosphere of timeless elegance.
The hotel boasts 20 individually designed rooms and suites that showcase a perfect blend of traditional features and contemporary details. The rooms are furnished with comfortable beds and luxurious linens, while the private bathrooms feature designer toiletries.
Guests can enjoy a breakfast buffet served in a cosy dining room. Or take advantage of the location of the hotel which allows easy access to the city's many attractions, including museums, galleries, cafes, and restaurants.
In summary, Hotel Heritage is perfect for travellers who want to experience the city's charm and elegance while enjoying a comfortable and luxurious stay. The hotel's unique blend of tradition and modernity, excellent cuisine, prime location, and warm hospitality make it a top choice for those seeking an exceptional experience in Ljubljana.
---
LOOKING FOR MORE?
There were also a couple of places we wanted to visit but didn't have a chance to (or they were closed for the summer holidays). I am listing them down here in case you want to give them a go:
Restaurants: Druga violina (Second Violin), TaBar, Jakob Franc Gostilna, Bistro Švicarija, Špajza Restaurant, Moji štruklji Slovenije, "El Patrón" Tacos & Store, Hood Burger Centre, Pop's Place, Divine, Njokarna
Bars/Cafes: Tozd, Črno Zrno Specialty Coffee, Mala Pražarna, Pivnica Lajbah, Žmauc, Idealist Bar
Wine bars: Vinoteka Movia, J&B Vinoteka
Ice cream: Vigò
Shopping: Flat, Krasevska, Zoofa
Sightseeing: Plečnik House, the view from the Nebotičnik Skyscraper
---
Is It Worth Visiting Ljubljana?
Yes, Ljubljana is definitely worth visiting. The capital city of Slovenia offers a unique blend of natural beauty, charming architecture, and cultural attractions. Visitors can experience the city's vibrant cafe scene, explore medieval landmarks such as the Ljubljana Castle or the Triple Bridge, or take a stroll through the picturesque Tivoli Park. With an excellent culinary offer, easy-to-navigate streets, and affordable accommodation options, Ljubljana is a gem waiting to be discovered.
How Many Days Is Enough for Ljubljana?
A minimum of two full days is recommended to explore Ljubljana and its main attractions, such as the Ljubljana Castle, Tivoli Park, and the Triple Bridge. However, to truly experience the city's charm and nearby destinations like Lake Bled, consider allocating three to four days. Visitors can enjoy leisurely strolls, food tours, and day trips, as well as get a sense of the local lifestyles and traditions.
What To Do In Ljubljana For 3 Days?
With three days in Ljubljana, visitors can fully immerse themselves in the city's charm and explore nearby destinations. Day 1 can be spent exploring the city centre and landmarks like the Ljubljana Castle, while day 2 can be reserved for a day trip to Lake Bled. Day 3 can include a stroll through Tivoli Park, a visit to the National Gallery, and experiencing the local culinary scene.
Is Ljubljana A Walkable City?
Yes, Ljubljana is a very walkable city, as most of the main attractions are located within the city centre. The streets are pedestrian-friendly and the city's compact size makes it easy to navigate on foot. In addition, there are numerous parks, charming neighbourhoods, and hidden corners that can only be explored on foot, making walking the best way to experience the city's charm.
Is Ljubljana Safe to Walk at Night?
Ljubljana is an extremely safe city to walk at night. The city centre is well-lit and there are police patrols throughout the area. However, as with any city, it is always important to take common-sense precautions and be aware of your surroundings.
Is English Widely Spoken in Ljubljana?
Yes, English is widely spoken in Ljubljana, especially among younger generations and those working in the tourist industry. Street signs, menus, and public transportation information are often available in English in addition to Slovenian. While it is always appreciated to learn some Slovenian phrases, visitors will likely have little trouble navigating Ljubljana without being fluent in the local language.
Is Lake Bled A Day Trip from Ljubljana?
Yes, Lake Bled is an easy and popular day trip destination from Ljubljana, located only 55 kilometres northwest of the city. Visitors can reach the lake in less than an hour by car or bus, making it an easy and convenient option for a day trip. It is recommended to spend at least a few hours at Lake Bled to fully enjoy its natural beauty and attractions, such as Bled Island and its church.
---
So there it is… Your Ultimate Ljubljana Guide – I hope you enjoyed it!
And as always, feel free to drop by the comments if you have any questions or want to share your experience! I'd love to hear from you!
Lots of love,
GG
---
Photo credits: Goya Galeotta © – www.goyagaleotta.com | Tom Dymond © – www.tomdymond.co.uk